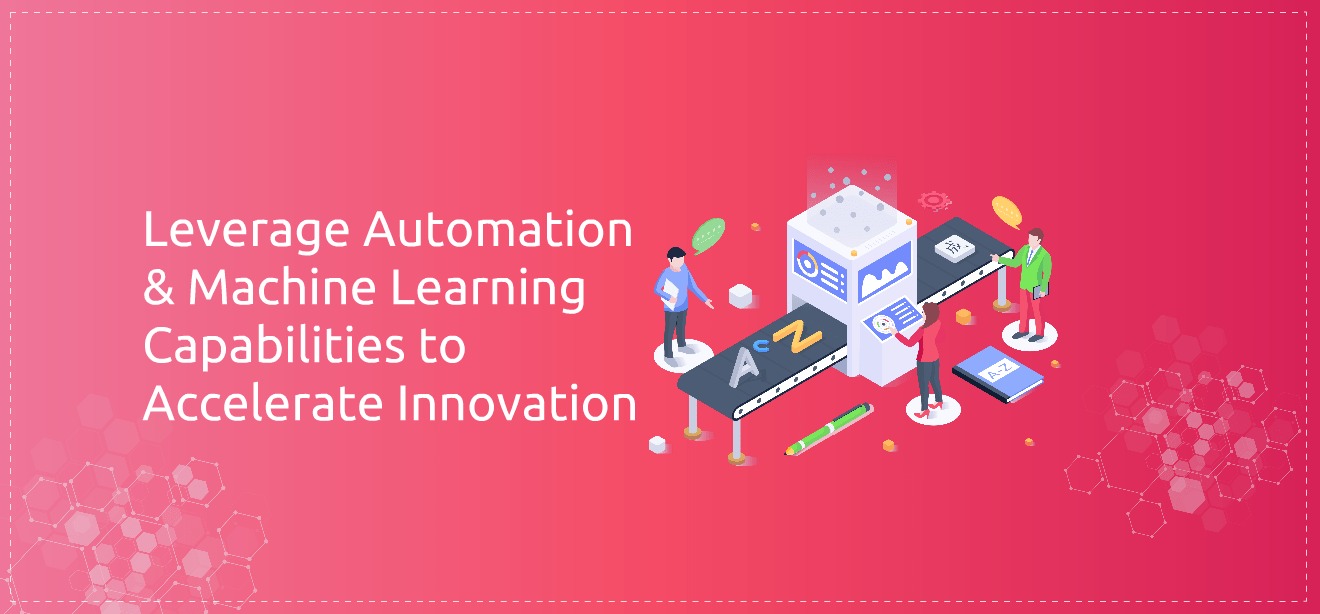 How Can Organizations Leverage Advanced Automation and Machine Learning Capabilities to Accelerate Innovation?
Machine Learning (ML) and advanced automation are some of the latest and the most trending words in the global business world. These advanced technologies have allowed companies to reimagine their working culture and combine digital intelligence into their system for enhanced end-to-end processes.
These technologies can reshape our idea of work and transform the way we have considered processing yet. Leading organizations are already leveraging these approaches to build a stronger and more efficient business growth model and boost their innovation, intelligence, productivity, and customer relationships.
ML and advanced automation can serve together as an innovative solution to a variety of business problems. The most promising part is that all organizations, be it big or small, can utilize automation and ML in their workplace and reap competitive advantages. In addition, these tools can help businesses solve complex data-rich problems and achieve success and sustainability.
Now, let's discuss the numerous ways in which these tools can contribute to the success of your business and help you in developing innovation in the business.
---
Enhanced Processing Speeds and Performance
ML and advanced automation are conceived to execute the most complicated processes in the shortest span of time. However, when humans perform a task manually, even the most intelligent and reliable employees can only do it at a specific time and with a certain possibility of error.
The automated system utilizes computational power and multithreading and terminates the task in a dramatically less amount of time. These operations ensure that the prerequisite tasks are successfully completed on time, in the right sequence, and all the inputted data is correct. Automating specific processes also confirms that critical tasks are completed more quickly and efficiently, with a far reduced risk of error.
Similarly, ML implements can help enterprises rapidly sift through thousands of job applications, shortlist the best candidates, and combat any human bias to choose the most qualified candidates, further increasing the company's productivity.
Real-time Business Decision
Companies receive the 'big data' from business analysts who fetch the data from the internet and transmit it to business organizations. However, the actual complication for businesses is extracting the correct required information and making decisions from the data.
Incorporating machine learning unlocks a novel way for businesses to expand their growth by making the right decisions. ML algorithms transform the existing data into useful knowledge and insights and eventually help the organization understand human behavior.
This valuable information provided by the data can be integrated into regular business processes and used in comprehending the current business situation and market demands to make real-time business decisions.
Enhanced Security
Cybersecurity and network intrusions are two significant elements that generate a tremendous amount of negative impact on the growth of organizations. Therefore, it becomes essential for companies to construct a powerful defense against these intrusions. They must be able to identify any unwarranted networking behavior and take preventive measures before the intrusion takes the shape of a massive cyber-attack and causes data leaks or hindered services.
Machine learning and advanced automation methods help your organization speedily analyze the network behavior and automatically execute the required steps to block intrusion. Moreover, ML algorithms instantly adapt and provide a better alternative than manual research and analysis.
Personalized Customer Service
Product recommendation is a vital tool in the overall marketing strategies of an organization. Adapting ML into the system helps the organization analyze customer behavior, their purchase history, background and comprehend their interests and required products.
Additionally, ML identifies certain patterns among the product sales and suggests similar products in groups and clusters, also known as unsupervised learning processes. This way, a firm can develop a much more innovative and effective marketing strategy based on scientific calculations and recommend the right products to the customers, enhancing the sales of the company.
Organizations can also optimize the "next best action" strategies for their customers and combine the power of historical data and ML to deliver a personalized end-to-end customer experience.
Business Growth
ML and automation work on several processes such as -
Improved tracking and monitoring of processes
Process huge amount of data with more efficiency and less error
Comprehend extensive information based on results
Build a clear insight out of the collected information

Companies can leverage this information to figure out almost anything about their marketing processes, orientation, performance, hindrances, and growth elements.
Better Spam Detection
Spams are promotional messages that you usually receive in your emails. Unfortunately, these emails can be junk and annoy the customers or even slow down the performance of the systems.
ML solves this problem by introducing rule-based techniques that filter out spam. These filters eliminate spam and help the network deal with spamming issues and instantly detect junk mails.
Maintenance Predictions
When companies, especially manufacturing firms incorporate machine learning and automation in their maintenance procedures, the immediate result is an assemblage of meaningful insights and patterns hidden in the factory data.
This data helps the firms identify potential risks in the future and diminishes the chances of failure, also known as predictive maintenance. Simultaneously, this kind of prior information increases productivity and saves costs that would be otherwise spent on expensive maintenance measures.
Conclusion
So, we can conclude that ML and Advanced Automation are robust and worthwhile technologies that can innovate new business growth methods. Moreover, these smart technologies can decrease human errors and efficiently deal with 'big data' related tasks.
Leading organizations are already using ML-based advanced tools to automate their decision processes and transcend towards a digital transformation. Therefore, if an organization wants to expand its top-line growth and optimize processes while improving employee management and enhancing customer satisfaction, it must start incorporating ML and automation in its working environment.
Recommended Articles
How is Data Science shaping the future of Modern Data Warehousing?
With evolving technologies and the growing complexity of business requirements, data has become more critical than ever. Data forms the backbone for all business decisions. In the years to come, data science will become a core factor in empowering business users and offering them greater autonomy in work by unleashing the power of modern data warehouses.

Read More
Guide on Digital Experience Platform(DXP) and Associated technologies
A Digital Experience Platform is an all-encompassing tool that helps organizations monitor, analyze, and enhance the digital experience of a customer through their entire lifecycle. It is like a fundamental block using which a company can build, manage, and grow its digital ecosystem.

Read More
How Cloud-based Security is benefitting Data-driven Organizations?
Cloud computing is one of the trendiest new world technologies. It has already hit several milestones and is regularly shaping the way we experience technology in our world. As cloud infrastructure grows, cloud security is also becoming an important part of today's businesses.

Read More
Contact Us
Decision Minds
Leaders in Cloud Analytics, Multi-Cloud deployments, Business Intelligence and Digital Engineering.
Interested in doing a project with us? We would love to hear from you.

Enquiries: sales@decisionminds.com
Careers: career@decisionminds.com
---
USA - Corporate Headquarters
1525, McCarthy Blvd,
Suite 224, Milpitas, CA-95035,
Phone: (408) 475-7873, (408) 215-2031
Fax: (408) 709-1830, sales@decisionminds.com

USA - Austin Office
1205 BMC Drive, Ste.122,
Cedar Park, TX 78613

India - Headquarters - Bengaluru
Unit No G03, Ground Floor,
C2 Block, Brigade Tech Gardens,
Brookfield, Bengaluru,
Karnataka - 560037

India - Bengaluru Office
Trend India, Raheja Towers, East Wing,
8th Floor, M.G. Road,
Next to Trinity Metro Station,
Bengaluru - 560025
Phone: (+91) 916-440-2993

India - Chennai Office
Trend India (4th Floor), Kochar Bliss,
Plot No. Super A-8 & 9, T.S.No.4/8,
Block No-6, Alandur Village,
Guindy, Chennai, Tamilnadu - 600032 Phone: (+91) 740-679-0005

India - Hyderabad Office
Dwaraka Pride, Plot No. 4/1,
Survey No. 64, Huda Techno Enclave, Madhapur,
HITEC City, Hyderabad, Telangana 500082