Process Automation
RPA (Robotic Process Automation) is a software-based approach that automates user actions, to reduce or eliminate human intervention in mundane/repetitive, and manually intensive processes. In some cases, the decisions can also be recommended by the machine/deep learning and cognitive agents. Today RPA combined with Deep Learning (DL) and Machine Learning (ML) can create virtual agents that can be deployed 24/7 to reduce latency and drive very high levels of productivity. Decision Minds has in-depth experience implementing several robots across many banks and credit unions.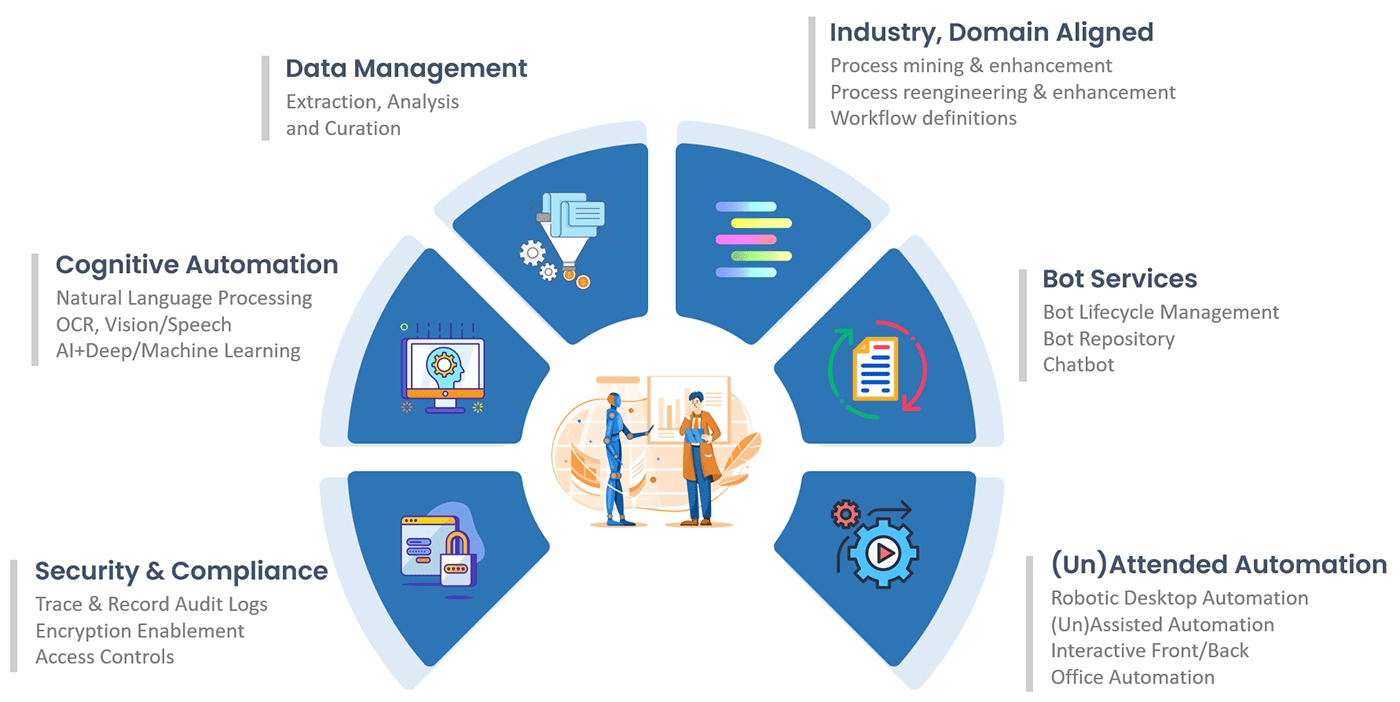 Strategy Roadmap
Platform & Pilots
Implementation
Optimization



DecisionHUB
Text & PDF Processing
Sentiment Analysis
Anomaly Detection
Predictions
Chatbots
Automation Anywhere
Blueprism
UiPath
Moogsoft
WorkFusion


---
Business Drivers
Competitive advantage
Proactive and 24x7 service
Free up key resources for strategic decision making
Speed up key business processes
Reduce human errors
Cost savings as high as 65%
Achieve regulatory compliance with minimal IT development



Our Value
Implement RPA solution in as little as 6-8 weeks
Proven experience with Hi-tech, SaaS Companies and Banks & Credit Unions
Partnerships with key RPA vendors like UiPath and BluePrism
25+ experts with RPA experience
Easily leverageable prebuilt bots for popular use cases

Contact Us
Decision Minds
Leaders in Cloud Analytics, Multi-Cloud deployments, Business Intelligence and Digital Engineering.
Interested in doing a project with us? We would love to hear from you.

Enquiries: sales@decisionminds.com
Careers: career@decisionminds.com
---
USA - Corporate Headquarters
1525, McCarthy Blvd,
Suite 224, Milpitas, CA-95035,
Phone: (408) 475-7873, (408) 215-2031
Fax: (408) 709-1830, sales@decisionminds.com

USA - Austin Office
1205 BMC Drive, Ste.122,
Cedar Park, TX 78613

India - Headquarters - Bengaluru
Unit No G03, Ground Floor,
C2 Block, Brigade Tech Gardens,
Brookfield, Bengaluru,
Karnataka - 560037

India - Bengaluru Office
Trend India, Raheja Towers, East Wing,
8th Floor, M.G. Road,
Next to Trinity Metro Station,
Bengaluru - 560025
Phone: (+91) 916-440-2993

India - Chennai Office
Trend India (4th Floor), Kochar Bliss,
Plot No. Super A-8 & 9, T.S.No.4/8,
Block No-6, Alandur Village,
Guindy, Chennai, Tamilnadu - 600032 Phone: (+91) 740-679-0005

India - Hyderabad Office
Dwaraka Workspaces, Krishe Sapphire
(3rd Floor), Hitech City Rd, Gangaram,
Chanda Nagar, Hyderabad, Telangana - 500133
Landmark: Durgam Cheruvu Metro Stop